AQUATERRAS was applied as a test to Carisbrooke Shipping's MV ONEGO ISLE's vertical sides at Remontowa Shiprepair Yard in late 2022 to test AQUATERRAS' performance alongside Caribrooke's standard conventional SPC antifouling coating.
AQUATERRAS is the world's first biocide free self-polishing underwater fouling resistant coating. It was developed incorporating new patented hydrolysis coating technology derived from the science used in the pharmaceutical sector. Its marine environmentally friendly formulation is totally free of heavy biocidal pigments & provides an extremely smooth surface; delivering ultra-low friction performance.
Carisbrooke Shipping have a strong focus to ensure their ships operate in the most sustainable manner possible. To achieve this, they instill a culture of efficiency and energy saving, both on board and ashore. Carisbrooke Shipping owns / operates a fleet of over 34 modern dry cargo and multi-purpose vessels from offices in Cowes (UK) and Rotterdam (Holland).
MV ONEGO ISLE is an 11,183dwt multi-purpose, low emission dry cargo ship, delivered in 2012.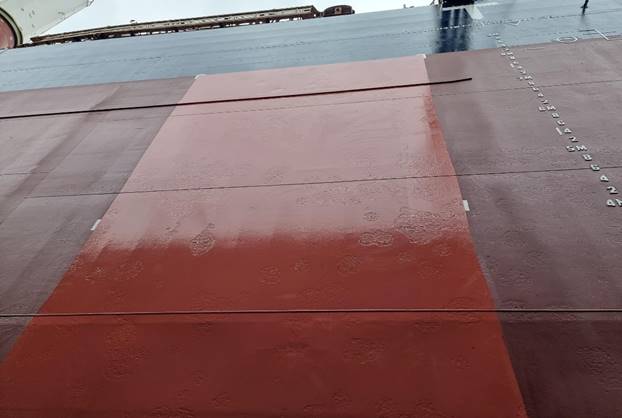 Feedback received from the vessel has been positive so far. The test patch will be monitored during the ship's operation and its performance compared against the traditional antifouling coating applied next to it.
With huge R&D facilities located in Japan, and a growing global network, Nippon Paint Marine invests in state-of-the-art R&D. Sites include a 5,978 sqm Marine Seafront Research Centre in Okayama, the first of its kind for marine coatings manufacturers. More than 5,000 materials are tested each year at the Okayama hub alone, where Nippon Paint Marine blends learnings from pharma with consideration for the environment.
Nippon Paint Marine continues to grow, delivering solutions that drive performance.
For further information, please read more from Carisbrooke Shipping here.