World's First & Proven Biocide Free Self-Polishing Coating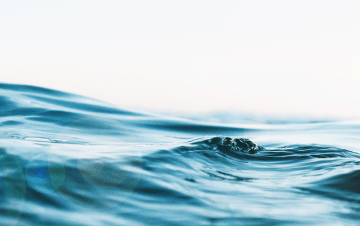 World's First & Proven Biocide Free
Self-Polishing Coating
AQUATERRAS. A totally new era in fouling prevention.
This is a unique and innovative Biocide Free Self-Polishing Coating paint based on Nippon Paint Marine's patented polymer technology.
Go beyond compliance. Go biocide free.
The result of years of development and even more years of testing by the marine coating industry's acknowledged leader in fouling prevention technology.
AQUATERRAS provides:
Excellent fouling protection performance / Ultra-low-friction / Self-polishing.
AQUATERRAS truly differs from any other SPC coating.
Sustainable and future proof fouling protection.
Applied to some of the world's most prestigious ships by forward looking owners.
AQUATERRAS provides remarkable performance. Nippon Paint Marine's contribution to the world is biocide free providing fuel-savings and lower emissions.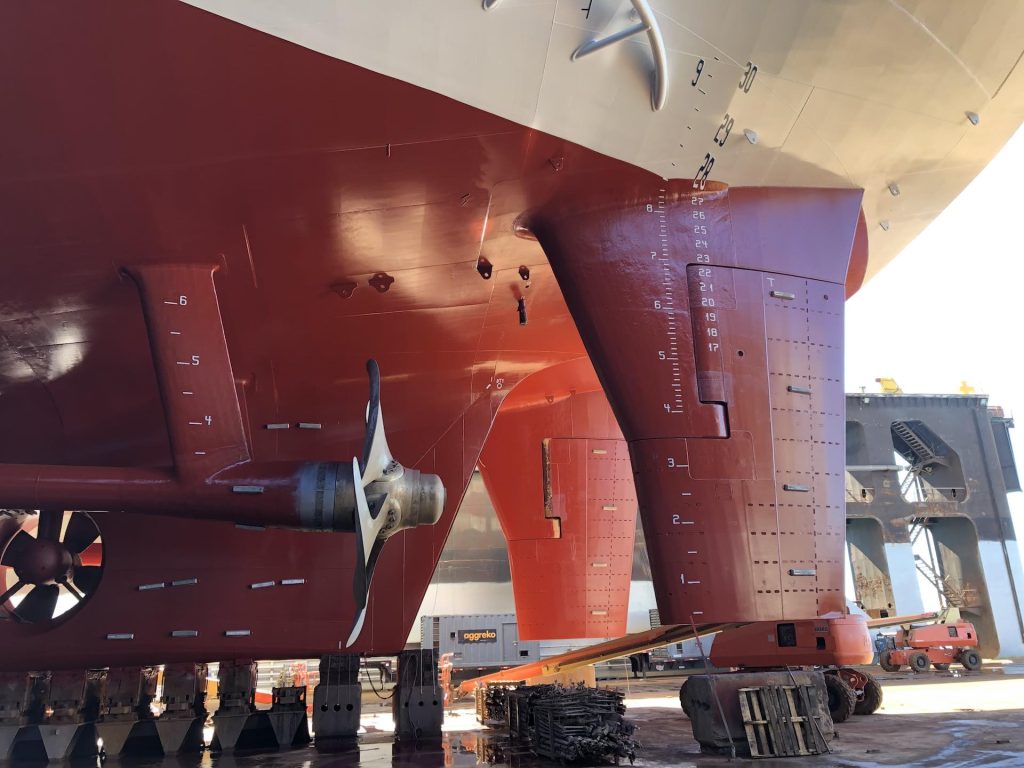 Biocide free Self-Polishing Coating Technologies
AQUATERRAS uses entirely new technology in the marine coatings field. AQUATERRAS works by using the science and materials used in medical anti-thrombogenic polymer technology.
Hydrophilic & hydrophobic micro-domain structures actively combine to naturally repel any biological adhesion onto its surface. Nippon Paint Marine's chemists ensured that a constantly active micro-domain structure is always exposed by creating a continuous hydrolysis (self-polishing) reaction.
New hydrolysis polymer structure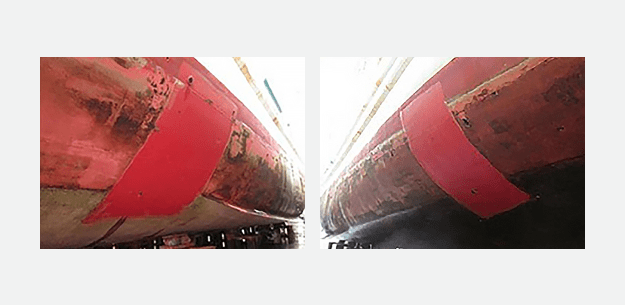 Fouling condition After 12 months (Ferry 14.8 knots)
Low Friction Coating Technologies
AQUATERRAS's surface is super-smooth & extremely flat from its biocide free formulation. Biocides such as copper or cuprous oxide are often comparatively rough.
Its unique biocide free self-polishing hydrolysis reaction helps to make its surface even smoother over time though self-polishing as the ship moves.

Initial surface roughness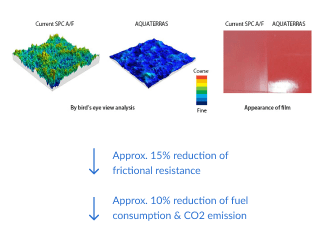 Initial surface roughness
Non Toxic SPC Coating Technologies
Nippon Paint Marine has conducted exhaustive and extensive testing to show that AQUATERRAS is truly biocide free and not harmful to marine life. We have conducted testing to demonstrate that AQUATERRAS has, or gives out :
No biocidal substances
No active ingredients
Environment friendly SPC coating proven by marine life tests*
Testing with marine life has been done with marine fish, bivalves, crustaceans and seaweeds ; none of which were harmed or affected by AQUATERRAS.
These reports are available on request and have been published in a Technical Dossier.
AQUATERRAS is easy for all shipyards to apply, needing no special equipment or expensive preparation.
Conventional painting apparatus
Standard painting practice
Application on current SPC layer
Special "AQUATERRAS A/C" required
Application guide
M&R
Newbuilding / Full blasting
*Please contact your local Nippon Paint Marine representatives for more details.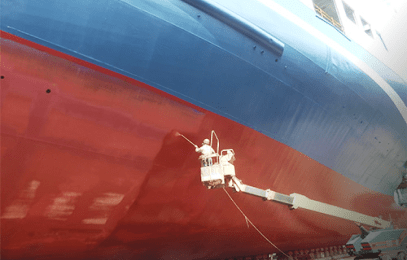 AQUATERRAS series complies with IMO-AFS2001 as tin-free coating system. Certification from Classification Societies is available. AQUATERRAS is a Biocide Free Self-Polishing Coating with no chemically active ingredients.
JPMA (Japan Paint Manufactures Association)
DNV-GL
Lloyd's Register
Korean Register
Non-toxic
Biocide free
Low-friction
Very low-roughness
Contact us now to discuss what we can offer you to protect your assets.